Amber RX - Horse Riding Tights - Black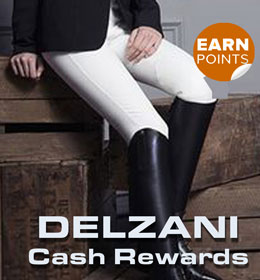 Our black Amber full seat silicone ladies tights feature a deep phone pocket and are an ever-popular choice for both competitive and casual horse riders. The belt loops allow you to pull off that competitive look of breeches – but indulge in the practicality and comfort of riding tights!
Featuring a full grip silicone seat, our riding tights offer superior performance in the saddle – but yet are super comfortable to wear around the horse stables or paddocks.

We use a high end, light to mid-weight fabric that offers a 4-way stretch and high breathability with moisture-wicking properties. The fabric is ideal for year-round use. We went to great effort to develop a fabric that can be used in both summer and winter with similar comfort.
In addition, you have a handy phone pocket on the right thigh.
Delzani Amber Equestrian Riding Tights feature:
Full seat silicone print in a dedicated seat panel
High-performance light to mid-weight fabric
Comfort elastic waistband with belt loops
Statement logo on rear wide belt loop
Trademark brand name on the thigh
A deep mobile phone pocket on the thigh that allows the phone to be fully inserted
Stunning lines to accentuate your natural body shape

Fabric: Micro-Polyester 88% Elastane 12%
Colour: Black
Care Instructions: Gentle cold water wash only < 30°C. See our full care instructions here.
Equestrian Tights Sizing: Feedback from our customers is that they are true to size and similar compared to many leading brands. To help you get a perfect fit, we have a very simple and detailed tights size chart here.
Very happy with my purchase

By:

Donna Woodward

on 8 February 2021

This is the first time I have bought riding tights instead of breeches and I don't think I will ever buy anything else! Good quality, great fit and sizing and excellent value for money when compared to other brands. And sooooo comfy! I will be buying again :D




(5)
Amber riding tights

By:

Jenny Chinnock

on 7 February 2021

Very pleased with these tights




(5)
Amazing

By:

Dimity Natt

on 28 January 2021

These tights are great, perfect fit and really comfy too!




(5)
Amazing

By:

Heather Wright

on 21 January 2021

Love the tights so much we ordered a pair for us all! They are so comfy you wont want to take them off. Do wish pockets were both sides but its ok the lefthander is ambidextrous




(5)
Amber-Riding Tights

By:

Kathy Fisher

on 10 December 2020

Very comfortable & look great




(5)
Amber tights

Fantastic fit looks great on sticky to saddle win win




(5)
Amber tights

Fantastic fit looks great on sticky to saddle win win




(5)
Amazing product at a low price!

Love these tights, I wear them all the time and prefer them over most of my expensive tights. Really comfy, not see through, always come up clean in the wash after the hell I put them through in mud and horse "fluids". The only thing I would change is the depth of the phone pocket - it's just not quite big enough for me to really feel comfortable with my phone in, about 1/4 of my phone peeks out over the top. This small factor definitely won't stop me buying more so I can stop re-wearing the same pair to death! Also fast delivery even amidst the Rona.




(5)
Amber Riding Tights

By:

Angela

on 21 May 2020

My daughter absolute love this Riding tights. She says this are the most comfortable Riding tights. Would be great if something like this would be available for winter.




(5)
So comfortable!

First time purchase of these tights and couldn't be happier. I got them in the blue and black and are exactly as pictured. Good quality and great lightweight tights for summer. The phone pocket is big enough for the normal size iPhone. I'm usually an 8-10 and the 8's fit perfectly. Will definitely be buying more!




(5)