Women's Belt Loop Waistband Horse Riding Tights & Leggings with Silicone Grip
Delzani offers women's horse riding tights and leggings with a belt loop waistband for all-day support. Features full silicone grip seat and side leg phone pocket and premium stretch moisture-wicking properties. We have a growing range of fabrics, styles and colours - perfect for your next equestrian show day or competition event.
Womens Horse Riding Tights with Belt Loops
A versatile player our women's horse riding tights and leggings with belt loops are designed for all day support. These everyday tights come in a range colours and fabrics for any ocassion.
Our full seat silicone grip seat uses cutting-edge gel technology. You will love the confidence and stick they give you in the saddle. All our women's leggings incorporate a tailored side panel that boasts a versatile phone pocket that is easily reachable in the saddle. Secure your mobile phone or keys while schooling, training or trail riding. Designed by professional riders to fit and flatter ladies in all the right places, we have put extensive development in strategically placing seams to prevent chafing and enable the best range of motion in the saddle.
Custom styles designed by Australian horse riders at amazing prices.
Related Equestrian Guides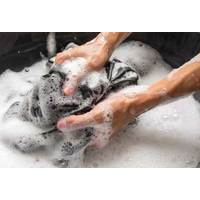 Equestrian Breeches & Tights - Washing Guide
Our horse riding jodhpurs and equestrian tights are designed to work hard.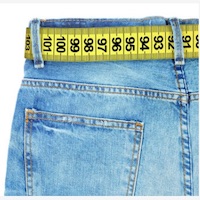 Delzani Breeches | Jodhpurs | Tights Size Guide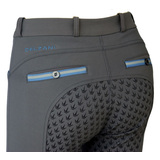 A riders guide to seat grip used on breeches.
Its interesting to learn how silicone is applied to breeches. Silicone is applied much like screen printing and there can be anywhere from 3 to 10 layers - building up the silicone. The number of layers affects the long term quality.