Montana · Salute Navy ClassicTek Breeches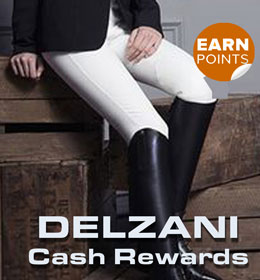 Featuring our new mid-rise design, our ladies 'Montana' riding breeches feature our professional range "Classic-Tek" fabric and feature two extra large phone pockets.
They are proving themselves as a favourite jodhpur for those horse riders who need regular but secure access for their phone. Our professional range "Classic-Tek" fabric is a plush light to mid weight breeches fabric with high breathability, super comfortable and is hard-wearing.

The full silicone seat will ensure a firm grip between horse rider and saddle.
Montana breeches pocket specifications:
2 x Large (Leg) mobile phone pockets
Montana women's breeches feature:
Classic-Tek high-performance fabric
Updated full silicone grip formula - durable and secure
StyleFIT contoured styling
Form-fitting 35mm elastic waistband
High cut lycra socks for added comfort
Quality YKK Zippers.

Rise Style: Mid Rise (for details here)
Breeches & Jodhpur Sizing: To help you get a perfect fit, we have a very simple and detailed breeches size chart here.
Material: 90% Nylon/Viscos blend with 10% Spandex content.
You can find a useful guide to understanding the different Delzani ranges and fabrics here.
Care Instructions: Gentle cold water wash only < 30°C. See our full care instructions here.
Breeches with a mobile phone pocket

By:

Michelle D Martin

on 26 August 2021

How awesome to find breeches with a mobile phone pocket - usually only found on tights. Love these. Would have preferred black but wasn't available but the navy is very nice and I'm glad now I've got them. The only thing is I can't seem to get them to stay as high up around crotch as I would expect.




(4)
Love them

By:

Antonia Finch

on 22 August 2021

I bought these on a recommendation from a friend and I love them! Good grip but not too much to be restrictive and fits great for us women with a curvy body shape.




(5)
Amazing breeches at affordable price!

By:

Deb Connors

on 16 August 2021

Love these breeches, I prefer to wear these over most of my expensive breeches. Super comfortable, always come up clean in the wash after a big day. The extra size phone pockets are awesome - they are big enough for me to really feel comfortable holding my phone. Delivery to Toowoomba was fast.




(5)
Very nice

By:

Angelica

on 9 August 2021

Great thick material warm and great for winter. pockets are perfect. only thing is they do ride down quite easily and aren't as comfortable as other designs from Delzani, but not uncomfortable and very nice overall.




(4)
Love this design

By:

Dian Sterling

on 27 April 2021

Love teh pockets and fit on these. Super comfy




(5)