Delzani Equestrian Postage & Delivery


DELIVERY INFORMATION
STANDARD SHIPPING (AUS & NZ)
To offer you unbeatable prices on our products, we have streamlined our business, the warehouse team aims to ship all orders within 1 to 2 business days of receiving your order. If there is an extended delay for any reason, we will notify you via e-mail.
We ask you to please allow up to 2 to 8 business days for standard delivery within Australia and up to 2 business days for express delivery once dispatched. (refer: Express shipping notes below)
However, most of our customers find that their order arrives much faster!!
INTERNATIONAL (NZ)
We offer free shipping to New Zealand on all orders over $200AUD. Any shipping charges are for transport freight only, and does not include import liabilities that may be chargeable by customs in New Zealand. We do not accept any responsibility for customs delays, import duties and relevant taxes that may apply in New Zealand.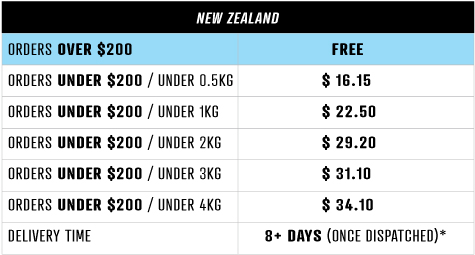 EXPRESS SHIPPING (AUS ONLY)
*** It is no secret that Australia Post has been hard hit by COVID and whilst their Express 'next day delivery' time frames have recently been delayed the Express Post option still remains your fastest delivery option.
Express delivery time of up to 2 business days is only available within the Express Post next business day delivery network. The national next business day delivery network operates between capital cities and some major centres. If you are not in a next day delivery location, your item will still be processed, handled and delivered as fast as possible.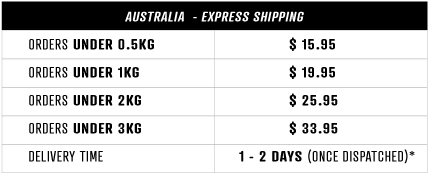 We do not offer Express shipping to WA or NT on parcels over 0.5KG.
FREE SHIPPING

(T&Cs apply)
Applies to all Australia orders over $150 and New Zealand orders over $200. (excluding shipping cost)
Please note, if you are returning an item from an order that originally received free shipping (because you were over our free shipping threshold) but then return part or all of the order for a refund (which would have taken that order below the free shipping threshold) we will process your refund less our shipping cost.
HOW ARE MY PARCELS DELIVERED?
All our parcels are sent with Australia Post and are sent with tracking numbers to help with the expected delivery date.
AUTHORITY TO LEAVE (ATL)
We offer the ability for 'Authority to Leave' the parcel if no one will be at home at the time of delivery. By ticking the box at checkout 'Signature not required on delivery' you provide an 'Authority to Leave' if no one is home to receive your parcel. In doing so you agree to take full responsibility and liability if your parcel is left in an unsuitable location, lost, stolen or damaged after the parcel has been left by the courier. Parcels do get stolen, wet or chewed on by the family pet.

We highly recommend having your order delivered to your work address if no one is at your residential address during the day. You will need to leave us detailed instructions for where and how to leave your parcel during checkout.
PARCEL TRACKING
When we dispatch your order you will receive a dispatch notification email from us. In this email, you will find your parcel's tracking number.
You can usually track your order from your My Account area in your user profile. Check order tracking here

If you have not received your order within a reasonable time frame, please also check your tracking number on the Aust Post website to receive an update on your parcel's location or check with your local post office first. More often than not - your parcel is waiting for collection - and the local postmaster has failed to leave a parcel pickup notice in your letterbox.
To check your tracking number with Australia Post directly Click here
CAN WE PICK UP ORDERS FROM DZ WAREHOUSE?
Sorry no! We operate a large online and wholesale operation and our Delzani distribution centre is set up to accommodate these core business activities. Unfortunately, we do not structure our business to deal with retail direct because of the high overheads involved. To achieve the high quality of the Delzani range – but at prices that are significantly cheaper than our closest competitors, we need to tailor how we interact.