Delzani Equestrian Returns & Warranty


We are sure you will love your Delzani products, if for any reason you are unhappy with your purchase or would like to swap for a different size, we will happily provide you with a 100% store credit* plus a 10% bonus* credit up to our flat rate shipping cost of $11.95 for Australia or actual shipping rate based on the weight of initial order for New Zealand customers. (more info below)
Please note: we offer store credit only.
We are often asked why we don't send out exchange requests? To continue offering the most affordable pricing in the market, we have to streamline our returns process. Customers often request a different product or size, which may or may not be in stock, often along with additional items. On top of this, we often have to collect additional postage - all these factors make it a time heavy process.
By offering you a credit, you can choose your own replacement items, sizes and colours and add any additional items you need. You can then raise the order and pay for any additional postage, at your convenience, without us needing to be involved.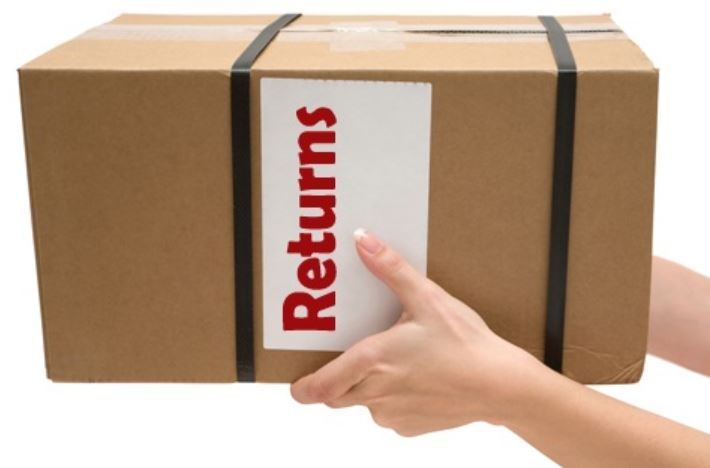 The Return Process: (Australia and New Zealand)
To facilitate a fast return or refund please log a RA Request here.
Provide us as much detailed information as possible, and include a picture of any manufacturing fault via email if required. Please note our admin office is only staffed on Mondays and Thursdays.
Please keep in mind, that to accept your return, the below requirements must be met:
The item is in unworn, brand new condition with original packaging;
The item is in unworn, brand new condition with no marks or stains (including makeup, spray tan etc);
The item is returned (and received) to us within 60 days of the delivery date; and
The item was not purchased in a sale.
*Afterpay. Afterpay charges us a 6% merchant fee for processing your payment. Should you cancel your order or request a refund, we are happy to assist, however, we will process your refund less the 6% Afterpay merchant fee.
The Return Process: (eBay Sales)
If you purchased from eBay, you will need to open a Return request inside eBay.
To start a return:
Find the item in your eBay Purchase history and select "Return this item".

Select your reason for the return.

If the item arrived damaged, broken or faulty, you have the option to add up to 10 pictures showing any scratches or defects.
Once we receive your item back we will provide you with a refund (less postage)
How does your 110% store credit* work?

(*excludes clearance lines or eBay sales)
On return of your item, we add store credit to your Delzani account. You are then free to reorder at your convenience.

Do you offer free exchanges? Unfortunately no. I'm sure you are aware our prices are between 40% to 50% cheaper than our competitors. We prefer to offer you great prices upfront, then inflate our prices to cover returns that only benefit a small number of our customers.

We share some of the original postage cost by offering flat rate shipping of $11.95 and free shipping on all orders over $150. As a goodwill gesture, we go as far as to share some of the postage cost to send your replacement items out to you as per below:

For returns valued under $150, on the successful return of your item/s, we will happily provide you with a 100% store credit for the original purchase against your Delzani account. In addition, we will provide a bonus credit of 10% (up to our maximum flat shipping rate of $11.95 for Australia and $16.15 for New Zealand). This helps cover the postage costs when you purchase your replacement products. This excludes clearance lines, factory seconds or eBay purchases
For Australia returns valued at over $150 (or New Zealand returns valued over $200). When we receive your item back, your Delzani account will have a 100% credit applied and you can then reorder the correct size and/or add any additional goods within 12 months. (and as your order will be over $150 for Australian order / $200 for New Zealand orders, you will be entitled to free delivery)
Once your return is received, please allow 3 - 5 business days of processing time for your store credit to be applied to your Delzani account
We do not arrange direct exchanges, rather you will be issued a store credit to use as or when you choose
All return shipping costs are to be covered by the customer. (exception: refer to Manufacturer Faults below)
Sale items or eBay returns are not eligible for the 110% store credit, you will instead be credited actual item cost.
Manufacturer Faults:
If an item has a manufacturing defect when you receive it, we will happily replace the item. However, please thoroughly inspect your garments carefully to ensure you are 100% satisfied with the quality and fitness of purpose the products you have purchased before using them. Ensure swing tags and labels are not removed during inspection.
Clothing gets torn from a misadventure in everyday use - this is not considered defective, it is just what happens in real life! (we understand it just hurts when it happens soon after purchase!). Please lodge a return request above and supply pictures of the fault. We will cover the postage cost involved.
I bought the wrong size or style, can I exchange it?
We all make mistakes! To simplify our returns process, when you return your item we will issue you with an instore credit - if you did not receive free shipping in your original order we will issue a 110% in-store credit of the purchase cost of your goods (max in-store credit bonus equal to flat shipping rate) so you can reorder the correct garments at your leisure.
Importantly, if you are returning an item from an order that originally received free shipping (because your order total exceeded our free shipping threshold) and consequently returns part or all of the order (which would have taken that order below the free shipping threshold) we will process your credit/refund less our flat rate shipping cost.
Postage costs to return your item to Delzani are at the purchaser's cost. Allow 3 - 5 working days after we have received your parcel for the credit to appear against your Delzani account.
Received the wrong item:
Occasionally we get it wrong! If we make a mistake and send you an incorrect item, size or style of product (we are only human!), please contact us so we can arrange a replacement at our expense, as soon as possible. These items need to be returned to us within 14 days of receipt. Please don't use the item as we will not accept products back once they have been in use or been modified in any way. Please follow our Returns Process outlined above.
Can we visit you directly to exchange orders?
We operate an online and wholesale operation and the Delzani distribution centre is set up to accommodate these core business activities. Unfortunately, we don't structure our business to deal with retail directly. Delzani is structured to achieve high quality across the Delzani range – at extremely competitive prices.
Returning soiled items:
Please use some common sense and common courtesy when returning items for exchange or refund. If we receive an item back and it is marked, stained or used (no matter how minor in your opinion) and this will prevent the item from being returned to stock and resold - we will provide you with two options. Either return the soiled garment to you at your expense or on your instruction, we will charge a restocking fee to cover the costs of cleaning and discounting your returned item that is dirty.
This fee will be equal to the difference between the discount sale price to resell your item and your original purchase price. To ensure you have a minimal loss, items that have an obvious use, marks and stains etc can not be resold and will need to be cleaned and re-sold as a used item in our discount bin. Most items will be marked down 40% to 60% depending on the state they are returned in and we will provide you with a credit or refund to this extent less cleaning fees.
To avoid disappointment, please ensure all items are clean.
Warranty
We will happily replace or repair any of our products that display a manufacturing fault within the first 60 days. Most manufacturing faults are easily identified the first or second time a product is worn or washed.

Outside of this, none of our products is sold with Express Warranties or Extended Manufacturers Warranties. We do not guarantee that our garments will last any set period of time - they can just as easily be damaged from a misadventure in the first week of wear, as they can 12 months later. We go to great lengths to ensure our products are of high quality, with strong fabrics and fittings.
However, all our products are sold with a consumer guarantee. The law automatically gives consumers rights when they buy goods and services from a Qld Business (visit Qld Office of Fair Trading here).
What if I have more questions?
If you have any questions about our products or service, please Email Us.