Delzani Equestrian Cash Rewards



Delzani Loyalty Cash Rewards - a loyalty program that rewards you with real incentives!
At Delzani, our rewards program is simple and easy to understand - you start earning on each and every order.

How simple? For every $1 you spend online, you get 5% credited to your Delzani Loyalty Cash account which can be applied to your next purchase online. (excludes postage)
Being a member of the program also means that you will receive notification of special offers that may be exclusive to our VIP members.
As an example:
If you spend $50 you would earn $2.50 in Delzani Cash
If you spend $100 you would earn $5.00 in Delzani Cash
How do I start earning Delzani Cash?
You need to have a login account to earn, manage and redeem Delzani Cash Rewards. As simple as that!
New customers visiting the site for the first time will need to create an account the first time as they checkout. (You can do this on the last page of our Checkout - or you can create a new user account here.

Delzani Loyalty Cash can be used towards future online orders on our website. Your Delzani Cash account will be credited once your original order is shipped and marked with a status of "Complete". Your current Delzani Cash balance can be found in the "My Account" section of your profile.
Shipping charges do not count towards Delzani Cash calculation totals. Delzani Cash earned in a transaction will be allocated to your account, which can then be spent at your leisure in the future.
Returning customers who already have an account with us will have their Delzani Cash automatically assigned to that account and do not need to do anything. Be sure to log in to your account before purchasing.
Oops! I didn't log in when checking out. Do I still earn Delzani Cash?
No. You must log in before completing your order so that we know which account to apply Delzani Cash rewards against. Unfortunately, we can not edit or adjust totals for your rewards points after an order, as it's an integrated security system within our website.
How do I redeem Delzani Cash?
Delzani Cash accumulates in your account and can be redeemed during your online check-out process. (under the '"payment details" section, just above where you enter your credit card details in the checkout ) Delzani Cash can only be redeemed on our main website, and only for online purchases, they can not be used for phone orders.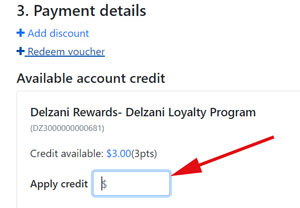 How can I see what my Rewards balance is?
Login to your user account. Once logged in select "My Account & Orders" and your reards total will be displayed.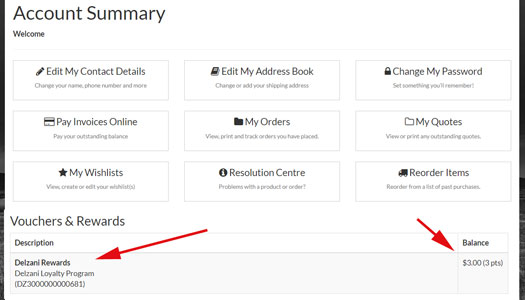 Is there a minimum spend to be able to redeem Delzani Cash?
Yes - you must have a minimum order total of $50 (before postage), to be able to see/use your redemption points.
Can I redeem Delzani Cash on phone orders?
No. Delzani Cash can only be used and redeemed for online orders - sorry no exceptions.
Are there occasions when I won't be able to redeem or earn Delzani Cash?
For some promotions - we reserve the right to restrict the use of Delzani Cash for both earning and redemption. An example maybe when we have a storewide sale with large discounts (ie Stock Take Sale 30% off) In these circumstances we may restrict the earning or redemption of points, this will be highlighted in the item description./or on our homepage during the sale.
Another reason why you may not be able to redeem points is that you must have a minimum order total of $50 (before postage), to be able to use your redemption points. You must also be logged in to the same account you used when you made your initial purchase.
Do my Delzani Cash Rewards Expire?
Yes - any reward points earned will remain in your account for 12 months from the date of allocation, at which point they will expire and no longer be valid. Once your Delzani Cash expires you will be unable to use them to purchase from us.
What happens if I return an item?
If you elect to return an item for a refund from which you earned Delzani Cash, the amount of Delzani Cash earned from the returned item will be deducted from your balance once we process your return.
Terms & Conditions
Delani reserves the right to change or end this rewards program at any time. Delzani Cash has no cash value other than when redeemed against a purchase online from www.delzani.com.au and cannot be redeemed for cash. Should we decide to alter or end our Loyalty Program, customers will be given an opportunity to redeem any Delzani Cash earned, prior to termination of this program according to the terms and conditions of the program. We reserve the right to exclude certain products or promotions from the Delzani Cash Rewards program.