How to tie a Dressage Stock tie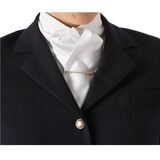 Need help with your Dressage Stock Tie? Try our easy 6 steps to have you knotting a perfect Dressage Stock in no time!
For many Dressage riders, tieing a Stock can be tricky and stressful - especially when you are getting ready to compete and your mind is on a million other things. However, it really is simple, and a few practice runs will have you looking great and you will be in high demand from your fellow riders with requests to help them with their own Stocks!
1. Depending on the style of Stock, start by placing your Stock against the front of your neck and fastening it to the top button on your shirt. Then wrap both ends of the stock around your neck from front to back, push the opposite end through the stock slot and pull firmly to bring both ends onto the chest. Some stocks have already done some of the work for you and have a simple rear fastener.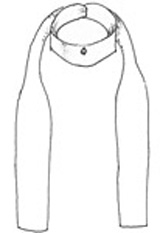 2. Next, make a single 'right over left' knot, pulling it nice and close to your neck. Next is the tricky bit, take one end of the Stock and lie it over your right shoulder and take the other end, folded upwards and overlay on the left shoulder. If needed, you can secure the knot at the base with a safety pin to avoid movement.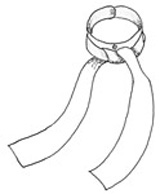 3. Leaving one end of the stock on your left shoulder, bring the other end over the top of it and thread back through the fold.
4. Pull both ends of the stock upwards into a knot at the neck. The knot should be firm, but not too tight as it may become uncomfortable after a little while.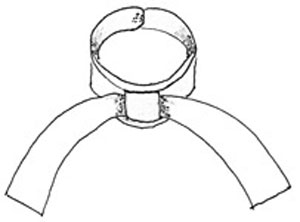 5. Next, fold the ends of your stock forward and cross, one side over the other. Position the ends until you achieve the desired effect with the knot showing in the centre.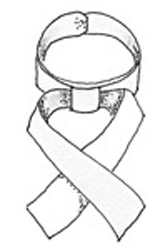 6. Finally, secure with a pin through your stock, 5cm below the knot. The stock pin should be placed horizontally.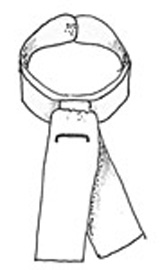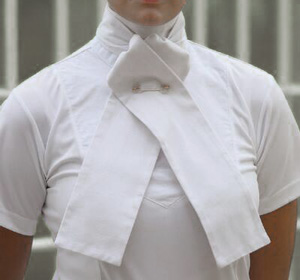 ---
Leave a comment
Related Equestrian Guides