Dress for Success - Showjumping Dress Code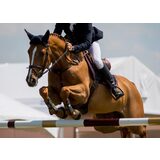 Understanding exactly what is and isn't permitted in regard to dress standards for Showjumping competitors can be very helpful when putting your competition wardrobe together.
While not as tightly regulated as Dressage events, Showjumpers do have dress regulations applying to dress standards at Equestrian competitions.

Showjumpers have a wide scope of dress options under the regulations, allowing you to let your personality shine via a range of stylish colours and dress.
Below we cover some of the most common dress standards that apply for Showjumpers, taken from Section (1) of the Australian National Jumping Rules policy (we have only pulled out the sections that apply to clothing). For the latest and most in-depth explanation, visit the Equestrian Australia website and search for their "National Jumping Rules" PDF document.

1. Dress
Athletes are required to wear the correct dress when appearing before spectators. In any case, the dress should be appropriate to the time, the importance of the competition, the presence of sponsors and requests of the OC.

1.3 In bad weather, the Ground Jury may allow the wearing of a waterproof jacket. In very warm weather the Ground Jury may allow Athletes to ride without a jacket.

1.5. Athletes are required to wear the uniform or dress approved by their NF. The Formal dress requires a hunting or riding jacket, white or light fawn breeches, and black or brown boots. Other dark coloured boots may be approved at the discretion of the EA. Boots must have a heel.

A white tie, ratcatcher, or a hunting stock and a white or light coloured shirt must be worn. Shirts may have long or short sleeves and must have a white collar; long-sleeved shirts must have Equestrian Australia National Jumping Rules 47 white cuffs.

If a jacket is not worn shirts must have sleeves, either short or long sleeves are permitted.

1.5.1 Summer Dress Athletes are encouraged to wear their riding jackets during their Competition round, regardless of the prevailing temperature. When the air temperature reaches 28 degrees Celsius (measured in the shade), however, Athletes are not required to wear a jacket.

1.5.1.2 When competing without a jacket, Athletes must wear a shirt with a collar to support a tie. Shirts must not be sleeveless. Shirts with contrasting panels and sleeves are permitted.

1.5.2 Alternative Dress may be approved for specific occasions – eg. Teams Events, Sponsor Requirements and Club Activities. By agreement of the Ground Jury and the OC, Athletes may wear coloured polo shirts or windcheaters.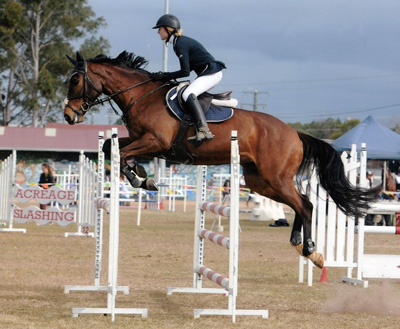 ---
Leave a comment
Related Equestrian Guides