A guide to Delzani breech & jodhpur fabrics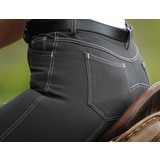 At Delzani - we pride ourselves on the careful in house selection and development of our premium fabric blends. Each fabric has been researched and custom made to meet our requirements and the needs of Australian equestrian riders.
At Delzani its all about style and consistency! All our breeches share the same overall fit and dimensions, its just the waist height, fabrics, pocket style, socks and silicone patterns that differ. We offer our breeches in range of grip options, from full seat suede breeches to full seat silicone breeches and also a popular range of knee grip only breeches. (find out more here)
When it comes to which fabric is best - there is no wrong decision! We are sure you will be happy with any of our fabrics, often it comes down to personal choice and colour. All our fabrics are just as much home in the competition ring as they are out on the horse riding trails. Below is a summary to help you understand our breeches fabric range better.
The Classic Range
Fabric: Polyester + Viscos with Spandex
Weight: 420gsm Mid to Heavy weight
Look & Feel: A very traditional fabric, with a low to medium sheen, soft to touch
​Durability: High
Pros: One of our thicker fabrics, it is very breathable and very comfortable because of the high Viscos content, so still suitable in warm weather.
Stain and dirt resistance: Medium
The Classic-Tek Range
Fabric: Nylon + Viscos with Spandex
Weight: 370 gsm Medium weight
Look & Feel: More a technical fabric, with a medium sheen, soft to touch
​Durability: Very High
Pros: A great all-round fabric. Our personal favourite
Stain and dirt resistance: High
The Sportz Range
Fabric: Micro Polyamide with Spandex
Weight: 260gsm - Lighter Weight
Look and Feel: Soft with a medium sheen
​Durability: Medium to High
Pros: A great all-season fabric, our lightest weight fabric, ideal in summer, but still very durable. Medium Weave
Stain and dirt resistance: Very High
The Sportz-Max Range
Fabric: Micro Nylon with Spandex
Weight: 360gsm Mid weight
Look & Feel: High Sheen. It is a very technical fabric that feels like a second skin when worn.
​Durability: Very High
Pros: As a finer weave, breathes well, has a luxury look to it with a higher sheen
Stain and dirt resistance: Very High
---
Leave a comment
Related Equestrian Guides