Riding Shirts - Washing & Care Guide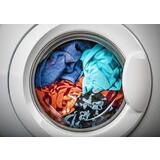 Delzani equestrian shirts are made to be worn, not worshiped. Throw horses into the mix and this means they get dirty. However, with proper care, your new equestrian show shirt can last for several years and continue to look great.
Follow these few pointers for optimal results:
Quick Guide:
Coldwater washes only. Hot water will damage the spandex & elastane fibres in the fabric causing premature pilling.
Turn shirts inside out before washing. This will prevent any snap hooks or buttons from getting snagged in the wash. For elegant fabrics, we suggest washing in a delicate net. It is also a great way to reduce lint etc sticking to the fabric.
Wash light colours separately. Modern eco-friendly fabrics are susceptible to absorbing colour easily from other garments that may bleed colour in a wash.
Do not tumble dry and dry inside-out, out of direct sunlight.
Preparation:
Don't leave dirty white shirts in the hamper for too long before washing. This can lead to premature yellowing of the collar band as any sweat and oils will have more time to set into the fabric of the shirt.
Start by preparing your show shirt. Unbutton all of the buttons, including cuff buttons and any collar buttons.
Wash your equestrian show shirts inside out to prevent pulling or tugging on the fabric and keep the fabric surface colours vibrant
Pay attention to care labels on each garment.
Pre-treat any stains by carefully working a little detergent into them, for sweat stains on white collars, try some spot-cleaning with a stain remover.
For very delicate shirts – put them in a washing net to stop them from getting tangled in other garments.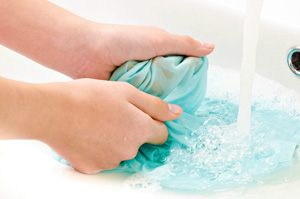 Which wash Cycle?
To minimize wear on a fine or lightweight show shirt, use the Delicate cycle.
Whites and light colours can use warm water (max 40c) Dark coloured shirts that you don't want to fade should be washed with cold water only. Take care not to include other laundry items with bold colours that may bleed into your shirts.
Use a high-quality detergent, avoid detergents or cleaners that are chlorine-based as these will cause discolouration to many shirt fabrics.
Wash the shirts in the washing machine, and then let the spin cycle wring most of the water out of the garment. (front end washing machines are much gentler than top loaders!)
Drying:
We suggest avoiding using a dryer. The high heat isn't kind to delicate fabrics.
Avoid leaving the shirts to sit in the washing machine when the cycle finishes. You'll want to remove them promptly before deep wrinkles will dry into the shirt.
Hang the shirts up ideally on a hanger, out of direct sunlight (if you cant avoid the direct sun – turn them inside out to reduce fading.)
Collars are best ironed just before the shirt is completely dry.
Storing:
Fold or hang your shirts? The jury seems to be out on this one. If you choose to hang your shirts, make sure you have a sturdy hanger that provides ample support in order for your shirt and collar to keep their shape. As well, hanging helps minimize wrinkling, which happens all too often with any shirt. However, folding also has its benefits as shirts tend to stretch and lose shape over time.
Can I use a clothes dryer?
We recommend avoiding the dryer and letting the shirt air dry on a hanger. If you must put the shirt in a dryer, avoid high heat or over-drying the shirt. Use the dryer to get most of the moisture out of the shirt, and then iron the shirt immediately to remove the rest of the moisture and any wrinkles at the same time. If you dry your shirts completely in the dryer they will be harder to iron perfectly.
How to avoid sweat stains?
Another major concern with show shirts is sweat stains, especially in the armpit area. There is a very easy fix for this common problem. Look to avoid any deodorant made with aluminium. Aluminium is the primary culprit of those embarrassing yellow stains you see. When the aluminium in your deodorant reacts with the biological material in your sweat it causes this yellow stain to appear.
How to remove a stain from a white shirt or collar?
In the unfortunate event that you get spill something sauce on your shirt, some quick action can reduce any stains that result.
Immediately treat the stain with water or stain remover. If you can't get your hands on a stain remover, try dishwashing detergent, lemon juice, or vinegar, gently dab solvents on the stain with a light touch. Pressure can force the stain deeper into the fibres of the garment.
Should I use starch on collars and shirts?
While many people do like to have their shirts starched, our suggestion is to avoid starch completely. While starch can help a shirt appear crisper it can also cause shirts to wear out prematurely. When the starch material gets embedded in the shirt fibres it acts like a million little knives that break down the fibres over time.
---
Leave a comment
Related Equestrian Guides