A riders guide to seat grip used on breeches.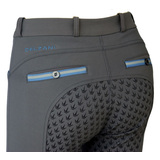 Its interesting to learn how silicone is applied to breeches. Silicone is applied much like screen printing and there can be anywhere from 3 to 10 layers - building up the silicone. The number of layers affects the long term quality.
Silicone seats on jodhpurs & breeches have become extremely popular in recent years. It's no surprise - they offer so many advantages over older style breeches which generally used different fabrics in the seat area compared to the rest of the breeches construction.
How is the silicone applied to jodhpurs?
It's interesting to understand how silicone is applied to jodhpurs. Basically, before the breeches are made each panel that requires silicone - has the silicone applied much like screen printing. Silicone is applied directly onto the fabric using a screed (which has the pattern cut out in it - like a stencil). It then is set aside to dry, before another layer is applied. There can be anywhere from 3 to 10 layers - building up the silicone with each application. The number of layers affects the long term quality. Some brands may only apply a few layers, others, like Delzani, lay down many layers to get a strong and lasting print.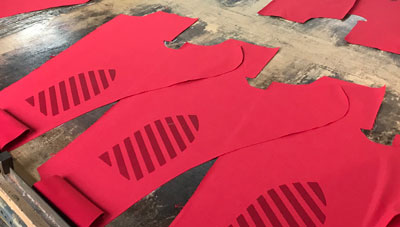 Silicone being applied to breeches
Regardless of fabric or features, the main difference people tackle with is knee-grip vs full-seat grip The type that is right for you depends on your main riding discipline and personal preference. Some riders prefer the security of full seat breeches, while others find them to be more of a hindrance.
Silicone Knee-Grip Breeches
This type of breech has, silicone grip or similar along the inside of the knees. These offer grip for those riders who need to maintain a two-point or jumping position. This functionality makes knee-grip breeches the classic choice of show jump riders and hunt riders. (although many still opt for a full seat grip to get maximum grip!)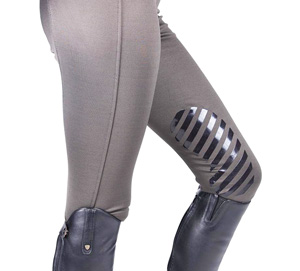 Full-Seat-Grip Breeches & Jodphurs
This type of breech has silicone grip or similar along with the seat, inner thighs and down to the knees and lower. The full grip seat provides the best grip and helps the rider maintain a secure seat. Many event riders choose full-seat breeches for the dressage, cross-country or general trail riding.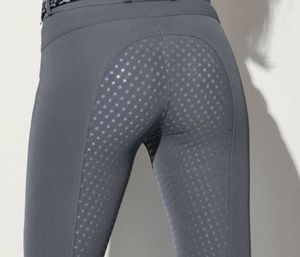 Does the silicone pattern make a difference to the comfort and grip of jodhpurs?
Well, yes and no! The actual pattern used makes little difference. What does make a difference is the total coverage of the pattern. As an example, a very tight pattern with large shapes, close together, tends to be less than ideal. Whereas a pattern made up of smaller shapes with a little more spacing in between is much better. Why? Silicone does reduce the stretchability and breathability of the underlining fabric, and can give you too much grip – you'll stick to everything you sit on!

At Delzani we have half a dozen or so silicone pattern designs across our jodhpurs and breeches that have been tested to find the perfect balance between grip, stretch, comfort and durability.
Suede Seat Breeches
The 'original grip' seat in breeches, is making a welcome come back into the equestrian market. Once the outcast because of its lack of stretch and restrictive movement, development in suede fabric technology has seen the fabric performance come ahead in leaps and bounds in breathability, stretch and grip. Modern suede seats are loved by many because they offer great grip both in and out of the saddle, so you feel confident in the saddle and equally as comfortable out of the saddle walking around at an event.
---
Leave a comment
Related Equestrian Guides